Dr. Franklin V. Payne is a board certified chiropractic practitioner. Dr. Payne is a native of Jackson, TN and graduated from University School of Jackson in 2002.
After high school, Dr. Payne attended the University of Illinois on a football scholarship where he received a Bachelor of Science degree in Kinesiology. While at the University of Illinois, Dr. Payne was introduced to chiropractic care to get treated for the aches and pains associated with the training regimen and the physical wear and tear from playing Division I football in the Big Ten Conference. Dr. Payne continued his chiropractic care
throughout his time at Illinois and noticed the benefits which included: increased strength, better endurance, better movement, increased speed/reflexes and his body was able to recover faster after training. Dr. Payne always knew he wanted to be in the healthcare field because he has always enjoyed helping others and chiropractic seemed like a natural fit.
Dr. Payne attended Logan College of Chiropractic located in Chesterfield, Missouri. While at Logan College of Chiropractic, Dr. Payne received a second Bachelors of Science degree in Life Sciences while completing coursework to obtain a Doctorate in Chiropractic. Dr. Payne excelled at Logan making Dean's list several times and also being selected as the student intern coordinator of St. Patrick's Center, that gives chiropractic care to the low-income and homeless population in downtown St. Louis. At Logan College of Chiropractic Dr. Payne treated many athletes (University of Missouri and Missouri Baptist University athletics) and was taught/trained by Dr. Ralph Filson, D.C., the chiropractor of the St. Louis Cardinals and Dr. Laney Nelson, B.S., D.C., D.A.C.B.S.P., the 2012 Sports Chiropractor of the year by ACBSP and former team chiropractor for BYU and Utah Grizzlies.
Dr. Payne believes chiropractic care can benefit everyone in the entire family. He has kept up to date on many continuing education classes, ensuing that his patients receive the most comprehensive and advanced chiropractic care. Dr. Payne is highly trained in naturally treating athletic injuries as well as personal injures from auto and workplace accidents with Active Release Technique.
Dr. Payne resides in Jackson and enjoys going to sporting events and spending time with friends and family. He is currently a member of the American Chiropractic Associationand Logan College of Chiropractic Alumni Association.
If you have any questions about our Jackson chiropractors, or would like to learn more about chiropractic care at Payne Chiropractic, please call us at (731) 660-6212 today!
2013 Jackson Madison County Sports Hall of Fame Inductees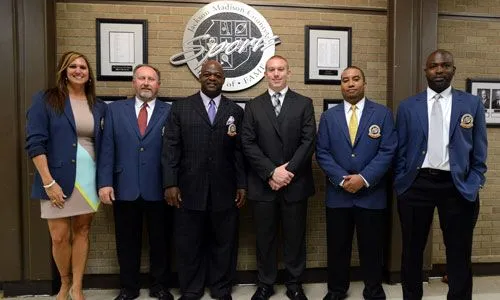 Dr. Payne, with his fellow inductees, in the 2013 Jackson Madison County Sports Hall of Fame class.